A complete website the easy way



U5 Net System is an all in one package giving you everything needed to put your business or personal website online complete with webhosting, e-mail and a redy made consistent design. Due to a web based user interface it's possible to manage the website from any Internet enabled computer, anywhere and anytime. No previous computer experience or expensive third party software is needed.

"My business strongly benefits from the combined power of our U5-based network and on-line presense"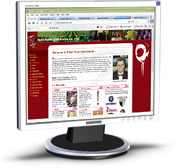 Reinhard Murer,
CEO of Food com (Thailand) Co. Ltd.




Features at a glance

| | | | |
| --- | --- | --- | --- |
| | | Hands-on self administration | |
| | | Text and images | |
| | | Ready-made design | |
| | | E-commerce solution | |
| | | Search engine registration | |
| | | Webspace included | |
| | | E-mail | |
| | | No software installation | |
| | | Update site from anywhere | |
| | | As many pages as you like | |
| | | Many addon services available | |
| | | Full support | |
| | | Cost effective solution | |