Can I really run my own website?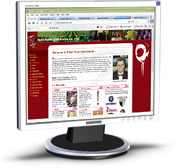 Certainly! You only need limited computer skills to use this system. It has been specifically designed with ease of use in mind. You don't require any software, all you need is internet access to be able to manage your U5 website. With its clear layout and form style editing area, you should have no problem publishing online. However if you want us to add new pages to your website for you, this can be done at an hourly rate. For more information about how the U5 system works....the U5system



Why should I use U5 NS?


The all important question, Why us? Well, there are many companies in the market offering "self-managed websites", but they often come with catches and restrictions. With U5solutions, we don't restrict your growth potential, more importantly we expect you to expand and develop your website over time. There is no restriction to the number of pages or pictures you can have, except if you outgrow the massive 10MB of webspace your website comes with as standard. Even then you can always add more space as required. We also offer comprehensive telephone and email support at no charge and are contantly upgrading our system with new improved features which you automatically benefit from. Find out about how the U5 system works....about the U5 system



Are there any hidden costs?


Other than your server hosting which is charged per month (exclusive VAT), there are no further costs, unless you require more than the 10MB webspace included, more than ample for most websites. The only time you may incur additional costs are if you decide to add new services such as E-commerce to your existing U5 website.



Do we offer support?


Yes. U5solutions offers a full FREE email or telephone support to all its customers. (9am-5.30pm Mon-Friday). The U5 has a help system built into it. Also because your website is accesssed through the internet, we can help you remotely if you get into difficulties....support


What if I have specific requirements?


If you have specific requirements for your website, we can help fullfil them. We have a host of additional features that you can purchase for your website, or we can build it bespoke to fit your exact specifications....bespoke services



How does U5 compare against Dreamweaver


There are various Web design tools on the market such as Front Page and Dreamweaver. However these are complex to use and require a more advanced level of design and computing skill. They are also Software, which by definition means that you purchase the current system which will soon become superceeded by a newer version, and also, that you load it onto a single PC which you have to work from. The U5 is served off the internet and can be used at anytime and from anywhere to update your website, with conventional internet access. It is also never out of date, because when we add new features and functionality to upgrade the system you immediately have access to them. With U5 you have all the tools you need to quickly and easily publish on the internet.



How many pictures and pages can I have with U5?


Unlike many other website systems on the market with U5 there is actually no set limit to the number of pages and images you can upload into your U5 website. However, in principle we do have a basic limitation of 100 mb of webspace, but this is enough for thousands of pictures! And you can at any time extend this space for a very low cost.



What about domain names?


Each U5solutions web package includes a FREE domain name purchased on your behalf if required. We also offer a FREE Domain Name Check service to see if a name you wish to register is available. We can also make sure that if you already own a domain name, that it has been registered correctly and point out any potential future problems you may have, such as Domain Name Forwarding fees....domain names



Can I incorporate U5 into my existing website?


U5 is ideal for situations when you may already have a website, but would like to be able to have a section which you can add and delete information yourself, such as Special Offers, Events diary, but do not wish to pay the fees being charged by your existing website Webmaster to do so. We can design your U5 to suit your website and then you will need to get your website Webmaster to link your website to the U5 system....contact us