Better Resource and Data Sharing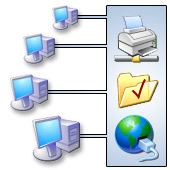 Readyness
Resources (files, internet, printers, faxes etc.) are shared and instantly ready for a user logging into the network, independently of who else is working.



Easier PC management
It is much easier to manage PCs. New PC? PC needs repair? Just do it. All the users work and the company's private files are safe on the server.



Management Access
Management have access to all files from own PC(s).


Professional Mail Management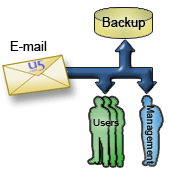 Proper routing and monitoring
Email dominates the company's communication. In a U5 Office system mail is routed and distributed as part of a plan.



Safety
"Something went wrong the PC all mail was lost." Maybe virus? Maybe disk crash? Positively poor management!
But with a U5 Office system mail is backed up on the server as soon as it arrives.



Email access
Are you home and want fast access, like with MS Outlook? Or out there travelling and need to check mail? Get the best of both worlds.